At one of the most renowned parks in the world and with possibly hundreds of different and fun things to do, it is understandable to find it hard to pick particular ways to enjoy your time at Central Park. The vast greenery and sheer size of the park and a history that precedes it can be overwhelming to some and especially the first time visitors.There are so many things to do including NYC bike tours and perhaps so little time for you to do even a fraction of them. However, while here, these six ways will probably take your experience at central park out of this world and build memories that you're going to remember for a life time.
1. Rock the boat
If you're looking to wind back and relax, boating in the serene and silent waters of the man-made lake in the park can be a great way of doing exactly that. For a small fee, you can rent out a boat and lose yourself seeing the different sites and the families at the banks having fun. If you're not up to the task of rowing, you can also hire a boat and let someone else do the heavy lifting for you as you relax and take in all the beauty around you. It is a great and inexpensive way to see the park differently and take in the picturesque view of the lake.
2. Fishing
For the longest time, fishing has been the preferred hobby for families looking to bond and relax. It might not look like fun to some but wait until you hook that fish. At the Harlem Meer, visitors are welcome for a day of catch and release fishing. The exercise is free and even though you don't get to take your catch home with you, you're assured of something to catch the next time you come and, you get to take the experience with you. Supposing you don't have a fishing rod, you can borrow one and even get bait to catch the fish – it's free!
3. Go for a dip!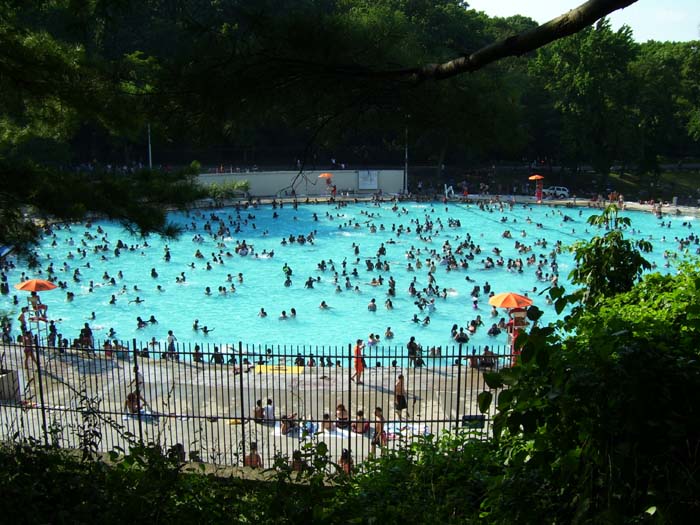 During winter, the Laser Rink and pool is used for skating. During summer and spring, it is a great spot for you to cool off and take a swim as it is converted into a public swimming pool. The swimming pool also offers a great place for you to relax and cool down after a long day of NYC bike tours around central park under the hot summer sun. The buzz created by other visitors creates the perfect ambience to make new friends and create chatter.
4. Appreciate nature and its beauty
During spring, the conservatory garden is a confusion of beauty and aroma as the different flowers and plants blossom. If you want to take a quiet stroll without having to duck out of the way for the occasional runner or NYC bike tours cyclist, the six-acre garden behind the wrought-iron gates better known as the Conservatory Garden is the place. Here, you will not only enjoy the best that nature has to offer in a serene surrounding but also the different fountains and arbors that are blended into the garden. Just be sure to keep an eye on time because it sure does fly when you're here. If you would love to have more diversity, then The Ramble can offer you that same experience but with more land and more activities.
5. Go for a hike
For a more fast paced and energy packed but ultimately fun activity, you will need to pack a bag and look to the Northwest corner of the park. The North Woods which feature man-made streams, ponds, waterfalls and the ever famous Central Park arches are a great spot for hiking lovers.
This part of the Park is fondly considered as the Adirondacks of Manhattan. If you're a first time visitor, you might want to tour the area in company of the Central Park Conservancy. There are a couple of different tours a day some of which are free. However, if you're feeling a little free spirited and in the mood for some adventure, you can go out alone.
6. Playtime!
If you're here with friends, family or even your kids, The Sheep Meadow is a great place for you to be. Here you can play baseball, catch, Frisbee or even jump rope. If you didn't carry any of your gear, worry not. You can borrow a field day kit that the North Meadow Recreation Center.
As you will notice, Central Park is a buzz with different fun and engaging activities. It caters to all kinds of people from the family lovers, lovers of nature and animals and even introverts. Whatever kind of fun you're looking for, there's a good chance the big park has something in store for you.